Semolina (suji) is a popular ingredient commonly found in Indian kitchens. It is used in numerous recipes and desserts. Known as suji or rava, semolina is typically made from durum wheat and is a good source of high protein content, making it a healthy option. Various brands of semolina are readily available in grocery stores, both in packed and unpacked forms. Due to its versatility, people often prefer to keep a substantial quantity of semolina at home. However, it is not uncommon to find worms in semolina. In light of this issue, we have compiled a list of helpful tips that will allow you to store semolina (suji) for months while protecting it from worms. Let's explore these tips without delay.


Also Read: How To Consume Mushrooms For Weight Loss: Top Benefits And Easy Recipes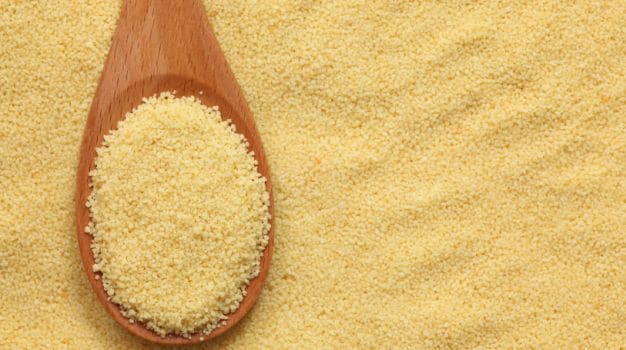 Here Are The 5 Tips For Storing Semolina (suji):
1. Dry Roast Method:
The best and simplest way to store semolina is to dry roast it. After roasting, let it cool and transfer it to a jar. Whenever you need to use it, simply take out the desired amount and utilize it according to your preference.


2. Add Cinnamon:
An excellent method for storing semolina is to open the packet, spread it in a dry pan, and add cinnamon. Roast it on low heat for 2 to 3 seconds. Turn off the flame and allow the pan to cool on a platform. Then, transfer the roasted semolina to a glass jar for storage.


3. Bay Leaf:
To prevent worm infestation in semolina, include two bay leaves while storing it in a jar. Seal the jar tightly. Storing semolina in this manner will prevent the growth of worms.
4. Airtight Container:
Always opt for a glass or metal jar when storing semolina to protect it from worms. Alternatively, you may use a plastic container. Ensure there is no moisture inside the container, as semolina can spoil due to moisture.


5. Refrigeration:
For long-term storage, refrigerating semolina is advisable. It will remain fresh and unaffected by insects when stored in the refrigerator. You can apply this tip to store gram flour or all-purpose flour as well.


Also Read: Try This Bengali-Style Pepper Chicken For A Delicious Lunch - Easy Recipe Inside
What Are The Common Issues With Semolina Storage?
Improper storage of semolina can lead to various problems, such as moisture absorption, clumping, loss of flavour, and staleness. Being aware of these issues will help you take necessary precautions while storing semolina and avoid potential spoilage.


Tips For Identifying Fresh Semolina


Before storing semolina, it is important to ensure that you are starting with a fresh batch. Look for packaging dates, check the texture for any signs of dryness or clumping, and inspect the product for any visible signs of spoilage. Selecting fresh semolina will contribute to its longer shelf life.


Proper Handling And Hygiene:
Maintaining good handling practices and hygiene is essential when working with semolina. Use clean utensils and storage containers, avoid cross-contamination with other ingredients, and practice proper hygiene by washing hands thoroughly before and after handling semolina. These practices ensure the safety and quality of the stored semolina.


Remember these tips the next time you store semolina and share your experience in the comments section.
About PayalFood in the mind, Bollywood in the heart - these two things often shimmer in Payal's writing. Besides penning thoughts, Payal enjoys a playful tango with new and delicious recipes. Roaming around is her jam; whether catching up on the latest flicks or grooving to the beat, Payal knows how to keep her empty moments brimming with flavour and rhythm.