South Indian cuisine has a fanbase of its own. Right? From the look and feel to its tantalising effect on taste buds, we love absolutely everything about the cuisine. Our favourite? Well, nothing beats dosa and chutney. And, Bollywood actress Diana Penty is on our side. Diana has shared a video of herself, relishing masala dosa, on Instagram. On her platter, we could see a crispy dosa and 3 vadas. Next to it was an array of accompaniments, consisting of sambhar, masala, and chutneys. There was also a glass of what looked like orange juice. Sharing the video, Diana answered the much-sought question, "How do you like your masala dosa? Masala inside or masala on the side". Well, Diana's answer was quite evident. She prefers masala on the side. "Anybody else who likes their masala on the side rather than in the dosa, hands up," the actress said in the video. And, simultaneously raised her hand.
"This is the most honest you've been on Reels," commented actor Dulquer Salmaan on Diana Penty's post.
Watch Diana Penty enjoying the yummy crepe here:
Crispy dosas with tomato chutney, sambhar, as well as masala are drool-worthy indulgences. Are you also a dosa fan? You'll surely like our handpicked recipes.
1. Masala Dosa
Here is an easy and straightforward recipe that guarantees the perfect masala dosa every single time. Try it and let us know the result. Click here.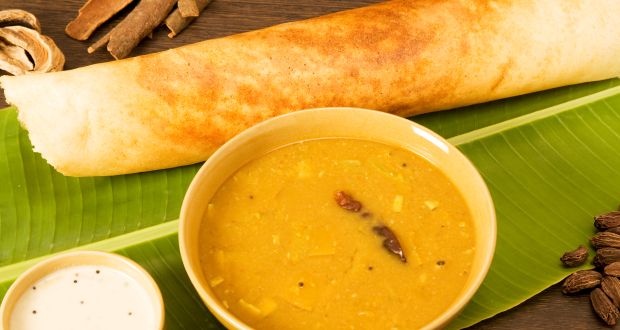 2. Rava Dosa
Wondering how it is different from the regular dosas? They are wafer-thin and are prepared with semolina (sooji). Here's the recipe.
3. Onion Rava Dosa
Dosa with a delectable crisp. Can we ask for more? This super yum variation of the rava dosa is topped with an onion-green chilli mixture. Recipe Inside.
4. Cheese Chilly Dosa
Love to add cheese to almost every dish? This recipe is solely for you. When desi textures meet western flavour, the result is this delicious cheese chilly dosa. Take a look.
5. Mysore Masala Dosa
For all spice lovers, we have brought an exclusive Mysore masala dosa recipe. A crisp dosa with fiery red chutney and masala filling sounds just right. Check the recipe.
What are you waiting for? Dig in right away.