Story Progress
Back to home
Aloo ki Pakori Recipe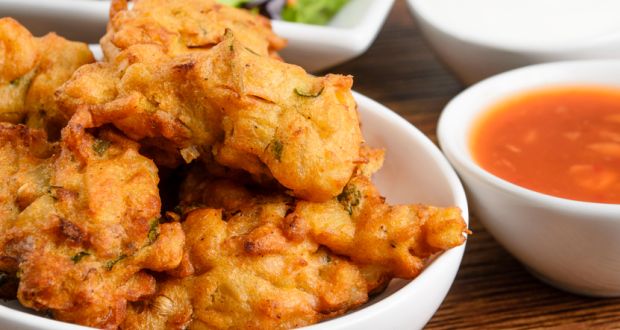 A popular tea time snack made with potatoes dipped in a batter made with kuttu ka atta (buckwheat flour)

Ingredients of Aloo ki Pakori
1 cup kutttu ka atta
2 tsp senda namak (rock salt)
1/2 tsp chilli powder
Water 250 gm
Potatoes-peeled and chopped into slices
Ghee (clarified butter) for deep frying
1.
1. Make a batter with the atta, namak, chilli powder and water. Adjust the water as required.
2.
2. Mix the potatoes into the batter. Heat the oil in a kadahi till some batter dropped into the oil comes up at once.
3.
3. Now scoop the pieces of the vegetables out of the batter and drop them into the hot oil.
4.
4. Fry over medium heat, to a very light brown. Remove from oil with slotted spoon and set aside.
5.
5. Continue till all the potatoes are used up.
6.
6. When ready to serve, heat oil again and fry the pakories till a golden brown.
7.
7. Remove from oil and drain on an absorbent paper and serve.
8.
8. Note - You can substitute with besan flour and regular salt if not fasting.