Story Progress
Back to home
Apple Jalebi With Gulab Ice-Cream Recipe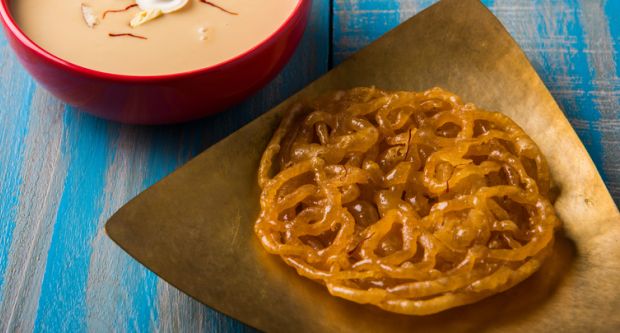 Apples are dipped in sweet batter and deep fried to a golden perfection. Team this sugary delight with the brilliance of rose ice-cream. This one isn't to be missed, take a plunge!

Ingredients of Apple Jalebi With Gulab Ice-Cream
For apple jalebi:
2 medium apples
1 cup refined flour
1 cup + 1 tsp sugar
A few saffron strands
Ghee for deep-frying
1/4 tsp green cardamom powder
1/2 tsp dry yeast
1 tsp rose water
Sliced pistachios for garnishing
Fresh rose petals for garnishing
For gulab ice-cream:
100 gms fresh rose petals
200 ml vanilla ice cream
2-3 Tbsp rose petal jam (gulkand)
3/4 cup chopped pistachios and almonds
For apple jalebi:
1.
Core apples and cut into thin slices.
2.
Combine sugar and water in a deep non-stick pan and boil.
3.
Add saffron, mix and boil for about 10 minutes or till the sugar dissolves completely and syrup gets thick.
4.
Heat sufficient ghee in a kadahi.
5.
Combine yeast and lukewarm water in a bowl, mix well.
6.
Let the yeast dissolve completely.
7.
Combine flour, cardamom powder, dissolved yeast and sugar in a bowl.
8.
Add water and mix well to make a thick batter.
9.
Set aside for 15 minutes.
10.
Add rose water to sugar syrup and mix well.
12.
Dip apple slices in the batter and deep-fry in ghee till golden.
13.
Transfer apple jalebis in the sugar syrup and soak them for a minute.
For gulab ice-cream:
1.
Combine ice cream, rose petals, rose petal jam and chopped nuts in a blender jar and blend well.
2.
Transfer the mixture into a silicon container, cover with the lid and freeze till set.
4.
Transfer some apple jalebis on a serving dish.
5.
Top it with a scoop of gulab ice cream, follow with another apple jalebi, garnish with pistachios and rose petals and serve.