Story Progress
Back to home
Baklava Recipe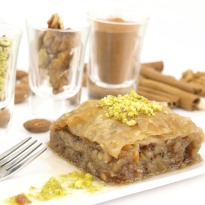 How to make Baklava
A flaky pastry with cinnamon flavored nuts layered between sheets and soaked in sugar syrup.

Ingredients of Baklava
15 Pastry Sheets (Easily available in any supermarket)
50 gms Pistachos, chopped
50 gms Almonds. chopped
50 gms Walnuts, chopped
1/4 tsp, Cinnamon powder
1/4 tsp, grated nutmeg
3 Tbsp Sugar
3 Tbsp Butter
For Garnishing:
10 gms, mixed dry fruits, chopped
2 Tbsp Sugar, to make sugar syrup
Water, to make sugar syrup
1 cinnamon stick, to flavor the sugar syrup
1.
In a pan add 1/2 table spoon butter. Once it melts, add chopped walnuts, almonds and pistachios.
2.
Roast it for about 2-3 minutes. Add cinnamon powder and grated nutmeg. Add 1 table spoon sugar. Turn off the stove.
3.
Grease a baking tray with a little butter. Lay a pastry sheet.
4.
Brush the pastry sheet with butter. Now proceed the same way with another sheet.
5.
Add a layer of the dry fruit mixture. Sprinkle some sugar.(Sugar is sprinkled because it will caramelize when baked and give a beautiful texture and color.)
6.
Keep doing this till all your pastry sheets have been used. (2 buttered, 1 with nuts and so on.)
7.
Brush some butter on the top pastry sheet and bake till golden brown at 160 degrees in the oven.
8.
Once baked, take it out and let it cool. Cut into squares or diamond shapes.
9.
Meanwhile make the sugar syrup by mixing water, cinnamon stick and sugar. Boil the water till the sugar gets dissolved.
10.
Pour some sugar syrup over the cut pieces. Garnish with chopped dry fruits.