Story Progress
Back to home
Banana Milkshake Recipe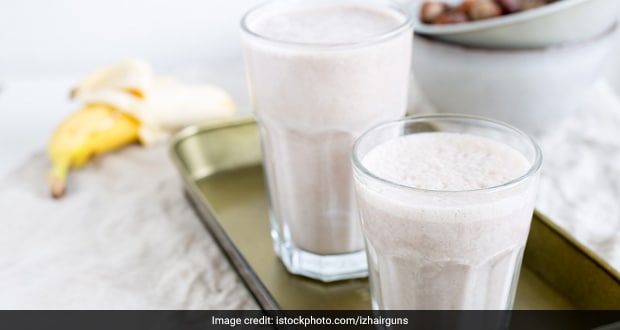 How to make Banana Milkshake
About Banana Milkshake recipe | Banana Shake: Banana milkshake is another amazing beverage for kids and adults alike. Along with a delicious taste this recipe of milkshake provides great amount of health benefits. A quick and easy milkshake that does wonders for your health and body. Crushed ice on top along with some cream and vanilla essence adds that extra thickness to this banana shake!
Ingredients of Banana Milkshake recipe | Banana Shake recipe: Banana milkshake is a very simple recipe with banana blended in milk – two simple ingredients, neither of which is unhealthy on its own. Banana has negligible fat content, whereas milk being a dairy product helps in reducing the storage of belly fat and does not add unnecessary sugar to blood stream. Cream is an optional ingredient, while kids would love to have some cream on top, adults might want to skip due to its sugar and fat content.
Best Way to Enjoy Banana Milkshake | How to Serve Banana Shake: The best way to have the Banana Milkshake is to have it along with your breakfast to have its maximum benefit and a great start to your day.
Benefits of Banana Milkshake (Banana Shake): Bananas being the most widely consumed fruit in the world has many benefits. Apart from being rich in fibre, bananas may help prevent asthma, cancer, high blood pressure, diabetes, cardiovascular disease, and digestive problems. The presence of potassium also reduces the risk of kidney stones. Combined with milk it work wonders since milk itself is high on a lot of nutrients like calcium which helps in maintaining bone density.
So basically this recipe of banana milkshake is an excellent drink for the kids to put on some nutrients in a delicious way which they would demand once they taste. A great way to drink up your fruits!

Ingredients of Banana Milkshake
1 Cup Banana, chopped
1 cup Milk
1/4 cup Cream (optional)
1/2 tsp Vanilla essence
1/2 cup Ice (crushed)
1.
Put all ingredients in a blender jar and blend smooth.
2.
To make it thicker you can also add some milk powder.
3.
Pour the crushed ice on top.
Recipe Notes
You can use Soy milk if you are lactose intolerant.
You might want to add more sugar, that is optional. However, adding more sugar will result in high calorie value.
Avoid drinking the banana milkshake at night since that can be more fatty.
Love Banana? Read what more can you make from the yellow-jacketed fruit!
While you might be having a good idea of what else could be made from ripe bananas, do you know there are endless options to make from raw bananas as well?