Story Progress
Back to home
Bhuna Kukda Recipe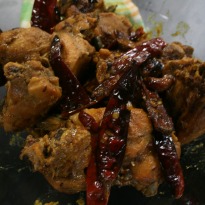 Chicken cooked Rajasthani-style, with loads of chillies.
Total Cook Time

1 hr 05 mins

Ingredients of Bhuna Kukda
For the marination:
1 Tbsp mustard oil
1 stick cinnamon
1 tsp cumin seeds
1 tsp mustard seeds
3-4 green cardamom
2 bay leaves
9-10 cloves garlic
1 cup dry red chillies, soaked in luke warm water
1 tsp turmeric powder
1 tsp coriander powder
1 kg chicken
For the base:
1 Tbsp oil
1 tsp cumin seeds
1 tsp vinegar
Salt, to taste
1/2 cup yogurt
Coriander leaves, to garnish
For the marination:
1.
In a pan, heat 1 Tbsp mustard oil till it reaches its smoking point. Switch off the gas. Let it cool down a bit.
2.
Switch the gas back on and add cinnamon, cumin seeds, mustard seeds, green cardamom, and bay leaves till it splutters.
3.
Add the garlic and saute it. Now add the soaked red chillies.
4.
Add turmeric powder and coriander powder.
5.
In a mortar and pestle, grind it into a fine paste.
6.
Clean and wash the chicken, cut into big size pieces. Apply the prepared masala and salt to the chicken and marinate it for 2 hours.
For the base:
1.
Heat up oil in a kadhai, mix in cumin seeds. When they crackle, mix in the marinated chicken and stir fry till brown on high flame heat.
2.
Add vinegar and salt and mix in sugar to caramelize.
3.
Mix in beaten yogurt. Add a little water if needed and continue cooking on high flame heat.
4.
Stir fry till all the liquid has evaporated and the chicken is soft and tender.
5.
Add salt and stir fry till the masala coats the chicken. Switch off the gas. Cover the pan to let the chicken soak in the flavor.
6.
Garnish with coriander leaves. Serve hot.