Story Progress
Back to home
Bombay Duck Pickle Recipe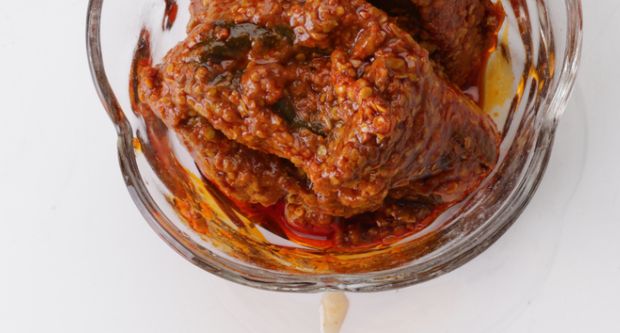 How to make Bombay Duck Pickle
Despite what the name suggests, Bombay Duck is actually a kind of fish native to the waters between Mumbai and Kutch. And yes, you can pickle that too.

Ingredients of Bombay Duck Pickle
100 units of Bombay Ducks, dried
250 gm Kashmiri chillis
1/4 cup garlic, chopped
2 Tbsp ginger, chopped
1 kg cooking oil
1 bunch curry leaves- clean and remove stems
2 pods (whole) garlic
1 ginger, chopped in pieces of 1 inch each
2 Tbsp salt or to taste
1 Tbsp haldi, turmeric powder
3-4 sprigs curry leaves, clean and remove stems
2 cups vinegar
1.
Wash the Bombay Ducks in vinegar and drain well.
2.
Grind the chillis, garlic, ginger, salt and turmeric to a paste.
3.
Heat the oil and fry the fish over high heat till brown.
4.
Drain it off the oil and keep it aside.
5.
Fry the curry leaves in the same oil, until they turn dark brown.
6.
Take them out of the oil and keep aside.
7.
In the remaining oil, add the ground paste and stir fry till the fat separates.
8.
Add the fried Bombay Ducks and cook them for 15 minutes over slow fire.
9.
Finally add the fried curry leaves mix well and shut off the heat. Store in an airtight jar.