Story Progress
Back to home
Caldine Vegetable Curry Recipe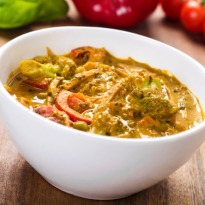 Served on a bed of rice, this Caldine veg curry is made with lady finger and flavored with coconut, cumin, coriander and turmeric.

Ingredients of Caldine Vegetable Curry
10-12 chopped lady fingers
1/2 onion, chopped
1 tomato, chopped
Coconut, grated
2 Tbsp of coriander powder
1 Tbsp of cumin seeds
1 Tbsp of turmeric
1 garlic, chopped
Boiled rice
1.
Pour some oil in a frying pan and allow it to heat. Add onions to the oil and stir-fry the onions until they turn golden, add tomato and keep stirring.
2.
Coriander, cumin, turmeric, garlic are all grounded along with the coconut and the resulting juice is extracted. This juice is then added to the pan.
3.
Add chopped lady finger to the pan and allow the concoction to simmer for a while.
4.
Add 1 and a half cups of water to the coconut with all the herbs, and once again add this coconut juice with herbs to the pan. This would be a good time to add salt as well. Allow it to boil and cook for a while.
5.
It is best served on a bed of boiled rice.
6.
Note: For non-vegetarians, fish would be the ingredient to use instead of lady finger.