Story Progress
Back to home
Cheese Biscuits Recipe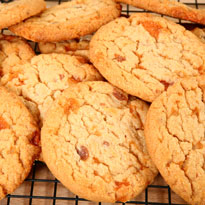 Crunchy biscuits with the goodness of molten cheddar cheese; these delectable cheesy biscuits are a good accompaniment of tea. The guests at your tea party are sure to be impressed!!

Ingredients of Cheese Biscuits
Oven Temp: 425° F
2 cups all-purpose flour
2 tsp baking powder
1/2 tsp salt
1/2 cup butter
1 cup shredded cheddar cheese
2/3 cup milk
1.
Preheat the oven to 425 D.
2.
Lightly grease a baking sheet.
3.
In a mixing bowl, combine flour, salt and baking powder.
4.
Cut in butter with a pastry cutter until it resembles coarse crumbs.
5.
Stir in the cheese and milk.
6.
Mix with a fork until the dough comes together and forms a ball.
7.
Turn the dough out onto a lightly floured board and knead 5 - 6 times.
8.
Roll the dough out to a 1 inch thickness.
9.
Cut with a 2 inch biscuit cutter.
10.
Bake for 12 - 15 minutes or until they are a light brown.
11.
Optional: Brush the tops of the biscuits with 2 T. melted butter after removing form the oven.