Story Progress
Back to home
Chennai-style Vada Curry Recipe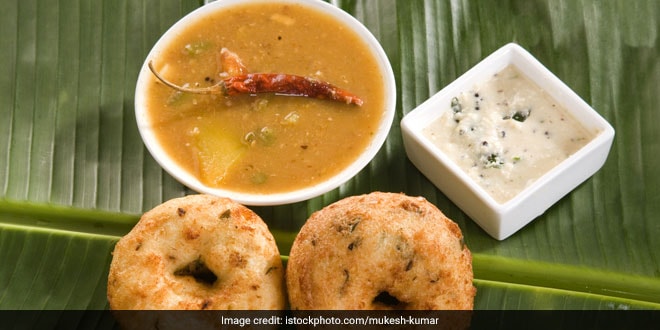 How to make Chennai-style Vada Curry
A favourite at many Chennai restaurants and also cooked at homes on special occasions. It tastes delicious with dosa and is also a favourite with idiappam.This version is less 'calorific' because it uses steamed dumplings.

Ingredients of Chennai-style Vada Curry
1/2 Cup Channa dal
4 Red chillies
1 tsp Fennel
2 Onions, finely chopped
3 Tomatoes, finely chopped
1 tsp Ginger-garlic paste
1 1/2 tsp Red chilli powder
1 tsp Coriander powder
A pinch of Turmeric
to taste Salt
2 sprigs Mint leaves
1 bunch Coriander leaves, small
1 sprig Curry leaves
2 tbsp Oil
1 Cinnamon stick
1 Cardamom
1 Clove
1 Bay leaf
1 tsp Cumin seeds
1.
Soak channa dal for 3 hours and drain out the water.
2.
Grind chilli, fennel and salt. Add the channa dal and grind coarsely.
3.
Grease idli plates and fill the moulds with the ground mixture. Steam cook for 8 minutes. Break it into smaller pieces once it cools down.
4.
Fry (temper) the cinnamon, cardamom, jeera, cloves and bay leaf, adding one ingredient at a time.
5.
Add the onion and fry till the onions turn golden brown.
6.
Add ginger garlic paste and fry for a minute in medium flame.
7.
Add finely chopped tomatoes and the powders - red chilli powder, coriander powder and turmeric powder.
8.
Add required salt for the gravy. Fry for a minute or until the masala blends.
9.
Add 3 cups of water. Bring to boil and add the crumbled dal and simmer for 10 minutes.
10.
Once the oil floats on top and the gravy becomes thicker, garnish with chopped coriander and mint leaves.