Story Progress
Back to home
Cous Cous Studded Cottage Cheese Recipe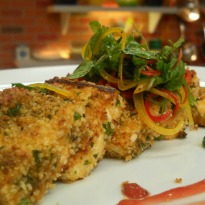 How to make Cous Cous Studded Cottage Cheese
A delightful party dish. Chunks of cottage cheese, dipped in a cous cous - bread crumbs mixture and pan fried till crisp golden. Served with a sweet and tangy plum chutney.
Total Cook Time

1 hr 25 mins

Ingredients of Cous Cous Studded Cottage Cheese
For cottage cheese:
150 gm cottage cheese (cut into square)
50 gm cous cous uncooked
20 gm bread crumbs
1/2 tsp black pepper
1 tsp parsley
1/2 Tbsp olive oil
For the marinade:
1 tsp ginger
1 tsp garlic
1 big pinch red chilli powder
1-2 Tbsp tomato puree
1 tsp parsley
2 to 3 mint leaves
Salt to taste
For the plum chutney:
200 ml vegetable stock
2 cloves
5-6 black peppercorns
2-3 green cardamom
1 cinnamon stick
1 star anise
6-8 plums
1 Tbsp jaggery
For Garnishing:
Few mint leaves
Few finely chopped yellow, green and red bell peppers
Salt and black pepper to taste
Little parsley
1 tsp olive oil
1.
In a mortar and pestle, ground ginger, garlic, red chilli powder, tomato puree, parsley, mint leaves and salt.
2.
Marinate the sliced cottage cheese with grounded spices.
3.
In a tray mix the cous cous, breadcrumbs and chopped parsley.
4.
Dab the marinated cottage cheese slice into the cous cous breadcrumb mix. Rest in a fridge for 30 minutes.
5.
Pan fry in hot oil to a golden brown color.
6.
In a pot, add vegetable stock, cloves, black peppercorns, green cardamom, cinnamon stick, star anise, plums and jaggery
7.
Cook on a slow simmer until the plums are soft and the liquid has reduced by half.
8.
Deseed the plums and discard the seeds. Blend the plums along with the cooking liquor into a rich puree.
9.
In a bowl mix mint leaves, bell peppers, salt, black pepper, parsley and olive oil.