Story Progress
Back to home
Cream of Broccoli Soup Recipe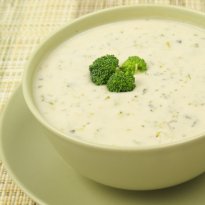 How to make Cream of Broccoli Soup
Thick, creamy and healthy with the kick of broccoli. This meal super easy to make and is very healthy.

Ingredients of Cream of Broccoli Soup
200 gm broccoli-chopped fine
2 Tbsp butter/oil
2 Tbsp sifted flour
1/4 tsp powdered black pepper
3/4 cup milk
4 cups stock or water
1/2 tsp celery salt
2 tsp salt
Cream for garnishing
1.
In a heavy saucepan heat the butter or oil.
2.
When the butter has melted or the oil is steaming, add half the broccoli.
3.
Turn around a few times, then lower the heat and continue sautéing for about half a minute.
4.
Add the flour and turn around till the mixture leaves the sides of the pan.
5.
Remove from heat, and add the stock very gradually, stirring all the time (thus avoiding lumps).
6.
Cool, and blend in a blender.
7.
Place the pan back over the heat, and add the rest of the broccoli, milk, black pepper and celery salt.
8.
Cook over high heat, stirring a few times, till it comes to a boil and then simmer over low heat for at least 10 minutes.
9.
Serve hot garnished with cream.