Story Progress
Back to home
Dhuli Urad ki Daal Recipe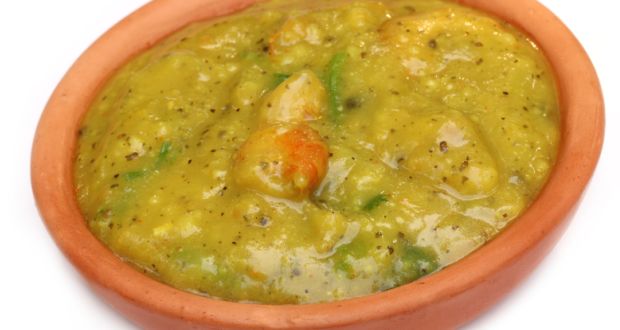 How to make Dhuli Urad ki Daal
Happiness is home cooked food! A light serving of urad dal cooked with mild spices and desi ghee tempering.

Ingredients of Dhuli Urad ki Daal
1 cup dhuli urad ki daal
1/2 tsp turmeric
1 Tbsp ginger-finely chopped
Salt to taste
2 Tbsp clarified butter
1 tsp cumin seeds
1/8 tsp asafoetida
1 tsp coriander powder
1/2 tsp garam masala
For tempering:
1 Tbsp clarified butter
1 tsp chilli powder
2 Tbsp chopped coriander - to garnish
1.
Pick, clean and wash the lentils well, 2 or 3 times; place in a heavy-based pan with 4 cups of water, turmeric, ginger and salt.
2.
Place the pan over high heat and cover partially. Bring to a boil and simmer till cooked. If using a pressure cooker, add only 3 cups of water, cook for 10 minutes and set aside.
3.
Heat the clarified butter in a heavy-based pan; add the asafoetida and cumin seeds. When the cumin seeds begin to splutter, add the powdered coriander and the garam masala.
4.
Mix well, add the lentils and bring to a boil. Simmer for about 1 minute. Transfer the lentils into a serving bowl.
5.
In another smaller pan, heat 1 Tbsp of clarified butter and add the chilli powder and garnish the lentils. Sprinkle the chopped coriander leaves and serve hot.