Story Progress
Back to home
Dim Sums Recipe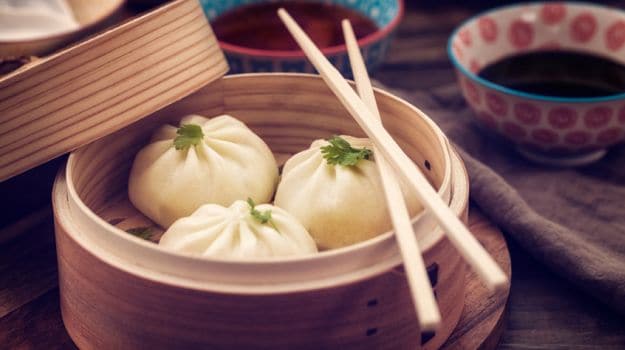 How to make Dim Sums
About Dimsums Recipe: An assortment of dumplings made with chicken and prawns. Serve with dipping sauces of your own choice.
Total Cook Time

1 hr 10 mins

Ingredients of Dim Sums
For chicken and prawn dumplings:
150 gms chicken
150 gms prawn
5 gms sugar
5 ml sesame oil
2.5 gms white pepper
wonton skin
potato starch
salt
For vegetable coriander dumplings:
10 gms carrots
10 gms button mushrooms
10 gms water chestnuts
10 gms bamboo shoots
10 gms garlic
10 ml oil
10 gms brown garlic
5 gms sugar
5 gms sesame oil
For wonton skin:
potato starch
salt
50 gms wheat starch
Prepare chicken and prawn dumplings:
1.
Mince chicken and prawns and mix with sugar, salt, sesame oil and potato starch. Stuff the mixture in the wanton skin and steam.
2.
Serve with Diamond & soya Sauce
Prepare vegetable coriander dumplings:
1.
Mix all ingredients except for wanton skin. Stuff the mixture in the wanton skin and steam.
2.
Serve with diamond sauce.
Prepare wonton skin:
1.
Add cold water with potato and 50 gm of wheat starch, and mix with a pinch of salt.
2.
Add hot water to the mixture and stir till it thickens. Add potato starch till it gets tight.
3.
Make a roll and cut into small balls adding wheat starch over the ball.
4.
Then roll the balls in a flat and round shape with a roller and add fillings.
Prepare diamond sauce:
1.
Soak 250 gm red chilies for 3 hours. Make into paste. Fry 100 gm garlic in oil.
2.
When garlic gets brown, add chili paste, salt, sugar and soya bean powder.