Story Progress
Back to home
Lamb Momos with Sweet Chilli Sauce Recipe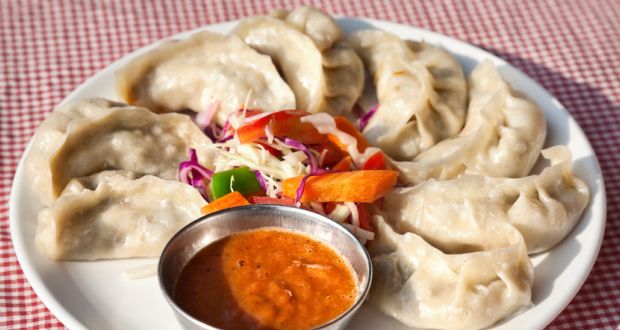 Make this all time favorite street food at home! Momos with a filling of lamb mince and mild spices. Served with a freshly made sauce that is sweet and spicy in one bite!

Ingredients of Lamb Momos with Sweet Chilli Sauce
For the filling:
500 gm lamb mince
2 tsp chilli powder
1/2 tsp pepper powder
2 1/2 tsp coriander powder
1/2 tsp turmeric power
1 Tbsp garam masala
2 Tbsp soya sauce
1 Tbsp vinegar
Aginomoto - a pinch
1 tsp chilli sauce
Salt to taste
Oil
For the dough:
2 cups all purpose flour
Salt
Water
For sweet chilli sauce:
4 red chillies
1 cup sugar
1/2 cup vinegar
1/4 cup water
1.
1. Mix all the ingredients for the filling in a bowl and fry it in little oil, and cook till all the natural stock from the lamb evaporates. Keep aside to cool.
2.
2. Then knead the dough to a soft consistency. Roll out the dough into small circles and make a momo basket.
3.
3. Begin with holding the flat circular dough in your left hand and putting a tablespoon of the filling in the middle of the dough.
4.
4. Then you have to fold the two edges of the half circle so that there is no open edge in your half circle, and the filling is completely enclosed in the dough. You will now have the basic half-moon shape, and you can make your momo pretty by pinching and folding along the curved edge of the half circle.
5.
5. Start at one tip of the half-moon, and fold over a very small piece of the dough, pinching down.
6.
6. Continue folding and pinching from the starting point, moving along the edge until you reach the other tip of the half-moon. Now steam the momos in a steamer or fry them in little oil.
7.
For the sweet chilli sauce:
8.
7. In a hot pan, mix in all the ingredients and simmer on high flame till the sugar dissolves. Cool and refrigerate, you will see that the mixture has become thick. Serve with the momos.