Story Progress
Back to home
Gaith Dal Fritters With Himalayan Chutney Recipe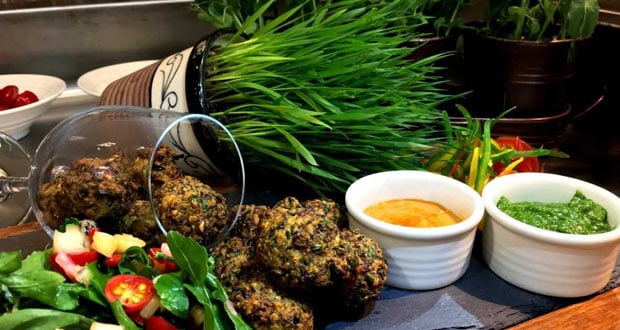 How to make Gaith Dal Fritters With Himalayan Chutney
The perfect snack recipe for every occasion, these dal fritters accompanied with Himalyan chutney are delicious, filling and makes for a great tea-time evening snacks. You could also serve these during the festive season around and your guests would absolutely love it.
Total Cook Time

1 hr 05 mins

Ingredients of Gaith Dal Fritters With Himalayan Chutney
For fritters:
200 Gram Gaith dal
15 Gram Ginger, chopped
10 Gram Green chillies, chopped
5 Gram Coriander, chopped
20 Gram Spinach keaves, julienne
30 Gram Salt
2 Gram Red chilli powder
10 Gram Gram flour
A pinch of Asafoetida
For frying Refined oil
For salad:
30 Roket leaves
5 Cherry tomato
10 Pineapple, chopped
10 Pears, chopped
10 Apple , chopped
10 Strawberry, chopped
2 Gram Salt
2 Gram Black pepper
2-3 Ml Olive oil
2 Ml Lemon juice
For mint chutney:
50 Gram Mint
30 Gram Coriander
10 Gram Green chilli
10 Gram Ginger
3-4 Nos Lemon whole
As per requirement Himalayan salt
For tomato and peanut chutney
50 Gram Tomatoes, roasted
10 Gram Peanut
5 Gram Sesamic seeds
3 Gram Ginger
3 Gram Garlic
4 Gram Green chillies
2 Gram Salt
5 Ml Lemon juice
1.
Soak gaith dal overnight.
2.
Grind it in a mixer grinder, it should not be to fine the grains should be left coarse.
3.
Mix in chop onions,chop green chillies, chop coriander,julienne spinach and add the seasoning required.
4.
Use gram flour for binding, make small round shape fritters and keep aside.
5.
Prepare mint chutney by combining all the mentioned ingredients.
6.
Adjust the seasoning and keep aside.
7.
Prepare peanut chutney by combining all the mentioned ingredients and keep aside.
8.
Make a salad by mixing mentioned ingredients and keep aside.
10.
Plating to be done as shown in the above image.