Story Progress
Back to home
Gatte Rasedaar Recipe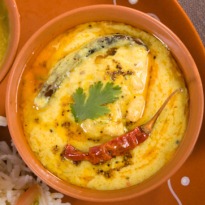 How to make Gatte Rasedaar
Gatte ki sabzi is a very popular Rajasthani curry. Golden fried gattas made with gram flour, cooked in thick gravy.
Total Cook Time

1 hr 20 mins

Ingredients of Gatte Rasedaar
2 Cups Gram flour
3 Tbsp Ghee
1/2 tsp Salt
1/4 tsp Chilli powder
To knead dough Water
To deep fry Oil
For the gravy:
2 Tbsp Oil
1 tsp Cumin seeds
A pinch of Asafoetida
1/2 tsp Chilli powder
1/4 tsp Garam masala
2 tsp Coriander powder
2 tsp Salt
1/2 Cup Tomato, grated
1/2 tsp Turmeric powder
1/4 Cup Yogurt
1 Tbsp Coriander leaves, chopped
Prepare the Gattas:
1.
Sieve the gram flour, add salt, chilli powder and turmeric powder.
2.
Mix ghee into the flour, using your fingertips till it becomes crumbly.
3.
Add water, knead into a stiff dough which is also smooth, glossy and comes off clean from the kneading surface. Cover and keep aside for about 15 minutes.
4.
Put 4 cups of water to boil in a pan. Meanwhile, shape the dough into cylinders and long enough to fit comfortably in the pan without touching the sides.
5.
Once water begins to boil, immerse cylinders and leave to simmer till they float up and have small light bubbles on the surface.
6.
Spoon the cylinders out of the water and keep aside to cool. Do not discard the water.
7.
Once the cylinder cools, slice and make discs to make gattas. Deep-fry the gattas over low flame, to a golden colour. Drain on absorbent paper.
Prepare the Gravy:
1.
Heat the oil and add the cumin seeds and the asafoetida.
2.
When the seeds begin to splutter, add the tomatoes and cook till the oil separates.
3.
Add the turmeric, salt, coriander, garam masala and the chilli powder. Mix well.
4.
To the liquid add some plain water to complete 3 cups and add to the above gravy.
5.
Bring to a boil, then leave to simmer-uncovered for about 15 minutes.
6.
Whisk the yoghurt till smooth and add to the gravy.
7.
Mix well and then spoon in the gattas.
8.
Simmer for 10-15 minutes, till the gravy looks well blended.
9.
Serve hot, garnished with coriander leaves.