Story Progress
Back to home
Grilled Vegetable Potpourri Recipe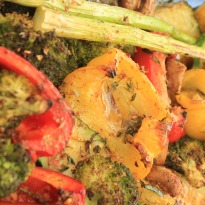 How to make Grilled Vegetable Potpourri
Perfect as a side dish to your chicken or pasta creation. This grilled vegetable paradise is full of herb-y flavors!

Ingredients of Grilled Vegetable Potpourri
6 asparagus
1 red pepper, diced
1 green pepper, diced
1 yellow pepper, diced
8 broccoli florets
1 zucchini, sliced
1 pack mushrooms, diced
3 Tbsp olive oil
2 Tbsp balsamic vinegar
1 Tbsp creole seasoning
1 tsp paprika
1 tsp oregano
1 tsp thyme
Salt to flavor
1 Tbsp oil, to grease the baking dish
1.
Pour olive oil in a bowl, and sprinkle in the creole seasoning, salt, paprika, oregano, thyme and a dash of balsamic vinegar. Stir and mix well.
2.
Set all the cut vegetables (asparagus, red pepper, green pepper, yellow pepper, broccoli, zucchini, mushroom) in a greased baking dish and pour the marinade over them.
3.
Put into the oven for about 30 minutes or till grilled.