Story Progress
Back to home
Hot Garlic Sauce Recipe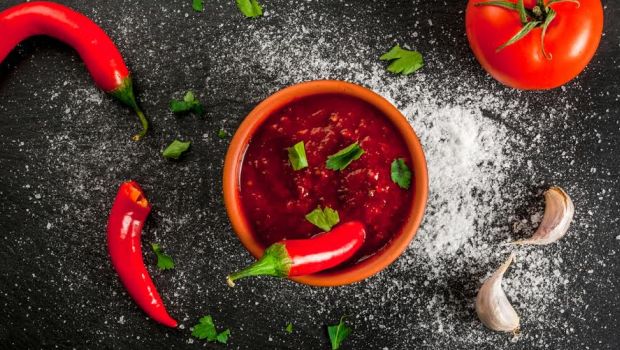 How to make Hot Garlic Sauce
Straightforward and effortless, hot garlic sauce can be used extensively for a wide range of delicacies.

Ingredients of Hot Garlic Sauce
2 Tbsp Oil
1/2 cup Onions, finely chopped
3 tbsp Garlic, finely chopped
3 Whole Red Peppers
2 tbsp Cornflour
1/2 cup Water
Water+Cornflour
1 1/2 tsp Salt
1/2 cup Vinegar
1 tsp Soya Sauce
1 tbsp Sugar
1.
Grind onions, garlic & red pepper together.
2.
Mix together, the cornflour, water, vinegar, soya sauce and sugar, and keep aside.
3.
Heat oil in a wok and add the onion mixture, stir over high heat till fat separates.
4.
Add the cornflour mixture and stir over low heat till cooked (becomes translucent and a little darker).
5.
Store and serve whenever required.
Key Ingredients: Oil, Onions, Garlic, Whole Red Peppers, Cornflour, Water, Water+Cornflour, Salt, Vinegar, Soya Sauce, Sugar