Story Progress
Back to home
Hot Paneer Sandesh Pudding Recipe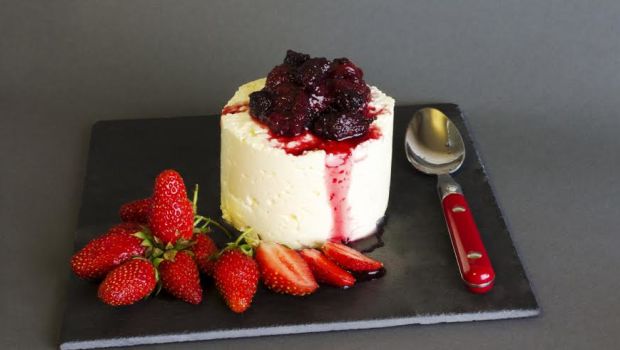 Hot Paneer Sandesh Pudding
About Hot Paneer Sandesh Pudding: Whip up a guilt-free sandesh - no sugar, only organic fruits.

Ingredients of Hot Paneer Sandesh Pudding
250 gm home-made paneer (cottage cheese)
2 Tbsp full fat cream
2 tsp stevia (a natural sugar substitute derived from a plant, adjust to your taste)
For the fruit stew:
1 green apple-thinly sliced & seeds removed
8-10 strawberries, chopped
Juice of one orange or about 1 cup
3-4 cloves
3-4 cardamom
2 cinnamon sticks
3-4 whole black pepper
1/4 Tbsp butter
Almond slivers for garnish
1.
In a saucepan melt the butter and add the orange juice to it.
2.
Add the cloves, cardamom, cinnamon and black pepper. (they have to be fished out later)
3.
Once the juice is hot, add the apple slices. Let it stew covered for about 5-7minutes. Uncover it after a while and let it simmer till half of the orange juice evaporates.
4.
Once done, turn off the heat and remove all the whole spices from the liquid.
5.
Now add 3/4 of the strawberries. Reserving some for garnishing. This is the fruit stew.
6.
Mash the paneer well with a fork and add whipped cream to it. Blend in the stevia. Mix well.
7.
Flatten out this mix on a plastic sheet or foil paper according to the size of the baking dish you are going to use.
8.
Preferable you should use a 15 cm square baking dish.
9.
Pour in the stewed fruits in the baking dish.
10.
Flip the paneer layer (that you had flattened earlier on a plastic sheet) over to fit on top of the stewed fruit in the baking dish.
11.
Dress it up with leftover strawberries and some almond slivers.
12.
Place it in a hot oven preheated at 220 degrees C and bake for about 15-20 minutes, till the paneer's edges look a bit brown.