Story Progress
Back to home
Jhinga Pulao Recipe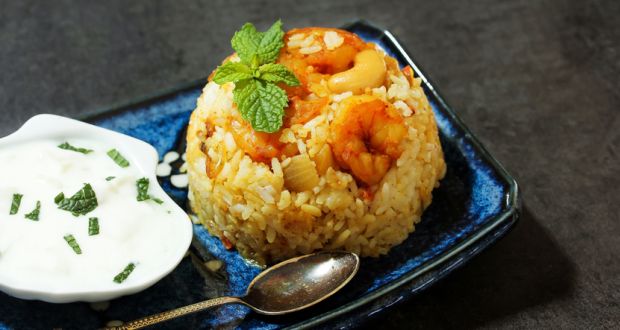 How to make Jhinga Pulao
A fulfilling rice meal enriched with delicately seared prawns and cooked with the aroma of freshly roasted spices.

Ingredients of Jhinga Pulao
1/2 kg jhinga (shrimps)-small, cleaned and de-veined
3 Tbsp oil
1 tsp cumin seeds
1/2 cup onion-chopped fine
1 tsp ginger paste
1 tsp garlic paste
1 tsp chilli powder
2 tsp coriander powder
1/2 tsp garam masala
1/2 tsp turmeric
1.5 tsp salt or to taste green chillies-chopped to taste
1 cup coconut milk
1/4 tsp coriander leaves
1 cup rice-soaked for half an hour
1.
1. Cook the rice in 1 1/2 cups water till almost done, and keep aside.
2.
2. Then heat the oil and add cumin.
3.
3. When it splutters, add the onion, ginger and garlic and saute till onions are brown.
4.
4. Add chilli powder, coriander, garam masala, turmeric and salt and mix well.
5.
5. Add the green chillies and the shrimps, saute a little and add the coconut milk and half the coriander.
6.
6. Simmer till prawns are almost done. Remove from heat.
7.
7. Remove half the prawn mixture and arrange half the rice over the rest. Put the remaindered prawns over the rice and cover with the rest of the rice.
8.
8. Then cover it and place over very low heat for 20-30 minutes.
9.
9. Garnished it with the rest of the coriander and serve hot.