Story Progress
Back to home
Kale Channe Ki Biryani Recipe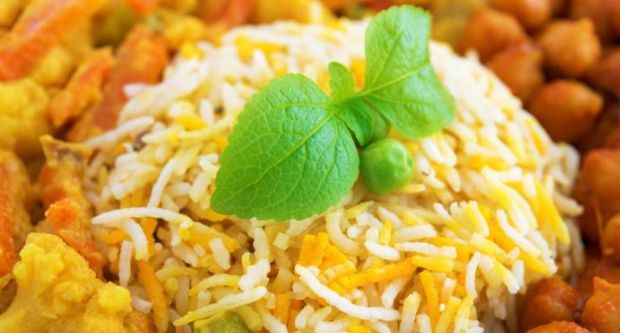 How to make Kale Channe Ki Biryani
About Kale Channe Ki Biryani Recipe: Experience the brilliance of black gram combined with fragrant basmati rice and an elaborate blend of flavours.
Total Cook Time

1 hr 30 mins

Ingredients of Kale Channe Ki Biryani
1 Cup Black gram (kala chana), boiled
1 1/2 cups Basmati rice (soaked for 2 hours)
3 inches Cinnamon
5-7 Green cardamoms
8-10 Cloves
5 tbsp Ghee
2 Black cardamoms
5-6 Black peppercorns
2 Bay leaves
2 medium Onions, sliced
4 Green chillies (slit)
2 tbsp Ginger-garlic paste
2 tbsp Coriander powder
1/2 tsp Turmeric powder
1/2 cup Yogurt
1 1/2 tbsp Fresh mint leaves, chopped
3 tbsp Fresh coriander leaves, chopped
1 tsp Garam masala powder
1 tsp Red chilli powder
to taste Salt
10-12 Cashew nuts, fried
10-12 Almonds, fried
1/4 cup Milk
1/3 cup Fresh cream
1 tsp Saffron
1 inch Ginger, julienne
1 tsp Screw pine essence (kewra)
2 + for garnishing tbsp Browned onions
For sealing Whole wheat flour dough
1.
Boil 3 cups water in a deep non-stick pan.
2.
Add 1 inch cinnamon, 2-3 cardamoms and 4-5 cloves and mix.
3.
Add rice and cook till partially done, drain and set aside.
4.
Heat 4 Tbsp ghee in another deep non-stick pan.
5.
Add cinnamon, black cardamoms, green cardamoms, peppercorns, bay leaves and cloves, saute till fragrant.
6.
Add onions and saute till golden.
7.
Add 2 slit green chillies, saute followed by ginger-garlic paste, mix well.
8.
Now add 1 tablespoon water and saute for 3-4 minutes.
9.
Add coriander powder and turmeric powder, reduce heat, add yogurt and stir continuously.
10.
Cook till the ghee separates.
11.
Add black gram and mix well.
12.
Add chopped mint, chopped coriander, garam masala powder and red chilli powder.
13.
Mix well and add 1 cup water, stir to mix and cook for about 15 minutes.
14.
Add salt, biryani masala, cashews, almonds, mix well and cook further
For the jhol:
1.
Heat milk in a non-stick pan, add cream, mix and heat.
2.
Add ghee and saffron, mix well and heat for a minute.
3.
Discard bay leaves, cinnamon and cardamoms from the gram mixture.
4.
Divide the mixture equally into two parts and keep one part in the pan.
5.
Spread a layer of cooked rice over the gram mixture in the pan, drizzle some jhol on the sides.
6.
Top with chopped coriander, green chilli and half a ginger.
7.
Spread the second part of the gram mixture on top and repeat the process with the remaining rice and jhol.
8.
Drizzle screw pine essence on top and crown with remaining ginger pieces, coriander, mint, slit green chilli, browned onions, cashew nuts and almonds.
9.
Roll the dough into a long cylinder and line it on the lid.
10.
Cover the pan, press to seal, place the pan on a hot non-stick tawa and cook on dum (low flame) for about 20 minutes.
11.
Serve hot garnished with browned onions.