Story Progress
Back to home
Khandvi Recipe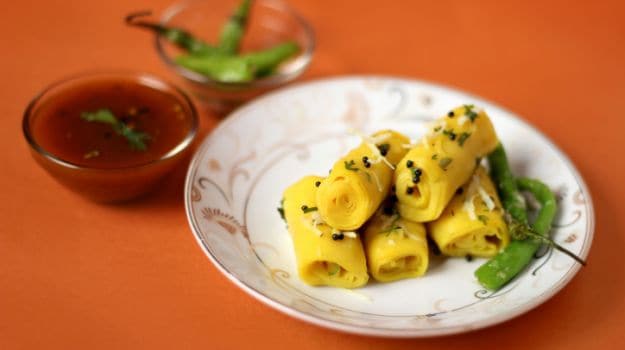 How to make Khandvi
About Khandvi Recipe: Also known as Patuli, Khandvi is a popular Gujarati as well as Maharashtrian savoury snack recipe that has a huge fan following across the borders. It is primarily made from sour yogurt and gram flour with generous tempering of spices and chillies. A healthy and tasty snack to make at home when friends and family gets together.
Total Cook Time

1 hr 15 mins

Ingredients of Khandvi
60 gms besan (gram flour)
60 gms khatta dahi (sour yogurt)
375 ml water
1/2 tsp ginger paste
1/2 tsp green chilli paste
1/2 tsp red chilli powder
1 tsp salt
1/8 tsp heeng (asafoetida)
1/8 tsp haldi (turmeric)
For tempering:
2 tsp oil
1/2 tsp sarson (mustard seeds)
2 sasirch (dried whole red pepper)
4-5 Kadhi patta (curry leaves)
1 tbsp hara dhania (coriander leaves) chopped fine
1/4 cup coconut, grated
1.
Place flour in a deep, heavy based pan (the pan should be large, as there is a lot of spurting while cooking).
2.
Add ginger-chilli paste, chilli powder, salt, heeng and haldi, and mix. Now add the yogurt, a little at a time, so as to form a smooth paste, without any lumps, and then the water.
3.
Place the pan over high heat, and bring to a boil, stirring all the time (to avoid scorching).
4.
Keep cooking and stirring till you reach a paste like consistency, increasing or decreasing the heat according to your ability to avoid scorching.
5.
It is cooked enough, when you separate a portion of it from the rest with a stirrer and you can see the bottom of the pan, which gets covered gradually (if it gets covered immediately, it is too thin). Another test is to spread a tsp of the batter on to an ungreased surface, when cool, it should come off clean.
6.
With the help of a rubber spatula spread the mixture onto an ungreased surface, in as thin a layer as possible and leave to cool.
7.
Heat the oil in a small pan and add the sarson, kadhi patta and sabut lal mirch. Stir a few times and then spread over the layer. Sprinkle all but 1 tbsp of the coriander and 1tbsp of the coconut over it, and pick up the lal mirch and keep aside.
8.
Cut this layer into strips roll up each strip like a scroll, as firmly as you can, without breaking them.
9.
Arrange them on to a serving dish. Garnish with the rest of the coriander, coconut and peppers. Serve.
Recipe Notes
You can also savour more of gujarati snacks at home with the best recipes we have here.