Story Progress
Back to home
Lemon Chicken and Rocket Pasta Recipe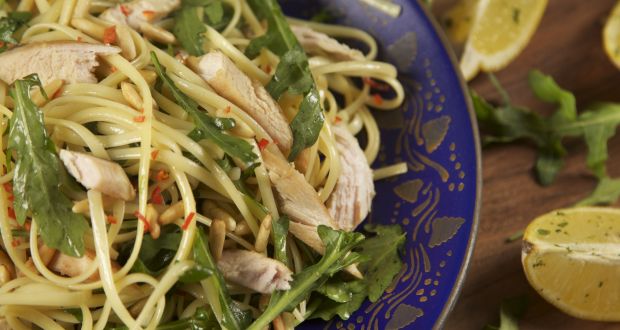 How To Make Lemon Chicken and Rocket Pasta
A recipe that you can share with your little one. A easy pasta with lime and lemony chicken chunks, fresh rocket leaves, pine nuts and cheese.

Ingredients of Lemon Chicken and Rocket Pasta
150 gm pasta
200 gm cooked chicken breast fillets, shredded
1 tsp of toasted pine nuts
1 bunch of rocket, shredded
1 tsp of lemon juice
2 Tbsp of canola oil
1 clove garlic, crushed
Sea salt
Cracked black pepper
Finely grated Parmesan
1.
In a saucepan, cook pasta in boiling, salted water for 10-12 minutes or until al dente. Drain and return pasta to saucepan.
2.
In a medium bowl, combine remaining ingredients except Parmesan. Pour on pasta and toss.
3.
To serve, top pasta with Parmesan.