Story Progress
Back to home
Mangauri or Moong Dal Badi Recipe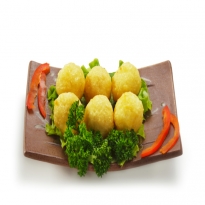 How To Make Mangauri or Moong Dal Badi
Leave these lentil bites to dry after shaping them and store them for additional crunch and flavor to any vegetable dish.

Ingredients of Mangauri or Moong Dal Badi
6 cups (1 kg) split Green Gram (dali hui moong ki daal) - soaked overnight
1 1/2 tsp heeng
1.
Rub the dal and wash off the skin.
2.
Grind it to a fine paste on a grinding stone or a food processor.
3.
Leave to rest, covered for 4-5 hours.
4.
Soak the heeng in a little water to dissolve.
5.
Beat the ground lentils till fluffy, and add the heeng to it.
6.
Make the badis: drop equivalent to about 1 Tbsp of batter on to the cloth till all the batter is used.
7.
These have to be left to dry out in the sun. When the top seems quite dry, try to pullout a badi. If it comes clean off the cloth, turn the cloth over, so that the bottom is exposed for drying.
8.
When dry, pull all the badis off the cloth, pack them in polythene bags, seal and store.