Story Progress
Back to home
Mathi Recipe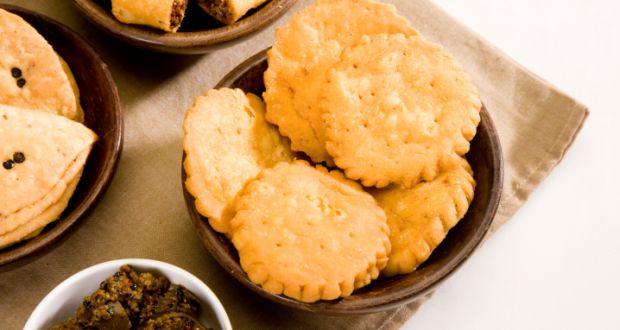 How to make Mathi
About Mathi Recipe | Mathri Recipe: Ajwain flavoured batter of flour and semolina fried into bite sized snacks. A small savoury snack that tastes even better when accompanied by a hot cup of tea! Perfect for those tea-time breaks or even when serving some unexpected guests.

Ingredients of Mathi
1 Cup Refined flour
1 cup Semolina
1/2 tsp Ajwain (thymol seeds)
1 tsp Salt
1/4 cup Clarified butter
To mix Cold water
For deep-frying Oil
1.
Mix the thymol seeds, salt semolina and flour together and rub the clarified butter in lightly so that the mixture resembles breadcrumbs.
2.
Knead into a stiff dough with cold water. Cover dough and set to rest in a cool place for at least 15 minutes.
3.
Roll out dough into . cm/1/8 in thick rounds, about 8 cms/3 in diameter, and prick these with a fork all over the surface, to prevent them from puffing up while frying.
4.
Heat the oil in a kadahi till a piece of dough dropped in, rises to the top at once. Then, put in as many mathis as will fit in comfortably. Turn once, and lower heat to medium.
5.
Fry the mathis till light brown on both sides. Lift out and place on absorbent paper.
6.
Fry the rest similarly, increasing heat before adding a fresh lot.
7.
Cool and store in an airtight container.