Story Progress
Back to home
Mayonnaise Recipe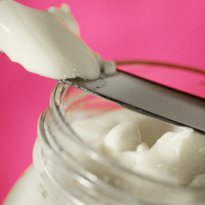 Homemade mayonnaise is handy to use in sandwich fillings, salad dressings or sauce bases.

Ingredients of Mayonnaise
1 egg
2 Tbsp vinegar
1/2 tsp sugar
1/2 tsp salt
1/2 tsp mustard powder or mustard oil
1/4 tsp powdered black pepper
1 cup oil
1.
In a deep bowl, break the eggs. Add to it the vinegar, sugar, salt, mustard and pepper. Beat these ingredients together, till fairly thick.
2.
Now add 1 tbsp of oil and continue beating till well blended and a little thickened.
3.
Add another tbsp and follow the same procedure, repeating till all the oil has been used up.
4.
At the end of using the whole cup of oil, the mayonnaise should reach the required thick and creamy consistency, leaving a light trail.