Story Progress
Back to home
Meatballs Recipe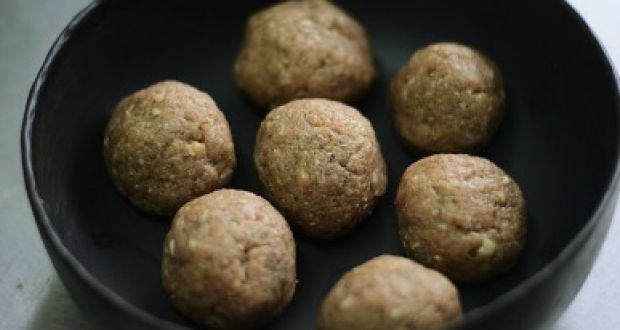 These round, bite-sized and juicy meatballs need only 10 minutes to cook and can be enjoyed with spaghetti, pasta, rice and even as is, doused in a rich and tangy sauce.

Ingredients of Meatballs
2 cups minced lamb cup
1 tsp garlic powder
1 tsp onion powder
1/2 cup chopped carrot (optional)
1/2 tsp salt
1/2 tsp black peppercorn powder
1 Tbsp olive oil for grilling
1 egg
4 Tbsp tomato sauce
1/2 tsp basil leaf
1 tsp Parmesan cheese
1.
Take the lamb boti, clean it and mince it in mincing machine or do it in a hand chopper.
2.
Mix the minced meat with carrots, egg, seasoning and all the other spices in a bowl.
3.
Then shape the mixture into small balls & keep it into the refrigerator for at least 15 min at around 4 degree Celsius.
4.
Meanwhile, prepare the tomato sauce. First, add olive oil in frying pan, then add basil leaf & tomato sauce into frying pan. Cook it on gentle fire for 2 minutes and keep it aside.
5.
After that, heat the grill plate and pour olive oil over it for grilling the meatballs.
6.
Then, take out the meatball from refrigerator & put it over hot grill plate and cook it for one minute.
7.
Finally, put the meat ball into the oven for cooking for 5-6 min at 180 C. If you don't have an oven you can cook them in a frying pan. Just make sure to cover them with a lid while they cook.
8.
After it is cooked properly take it out from the oven and do the final plating.
9.
Serve it with tomato sauce and garnish with Parmesan cheese & fresh basil leaf.