Story Progress
Back to home
Meen Murringakka Curry Recipe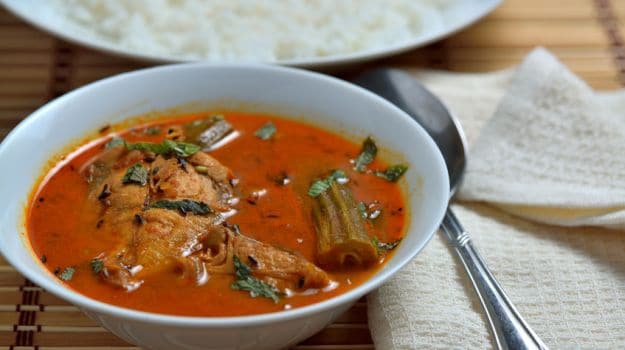 A deletable sardine fish curry with tamarind, coconut and drumsticks (murringakka). Tempered with shallots and red chillies. Serve with steamed rice. This recipe is absolutely delicious.

Ingredients of Meen Murringakka Curry
Marination:
3 sardines (You can also use sear fish)
Salt to taste
1/4 tsp turmeric powder
Paste:
1/2 grated coconut
2 tsp chopped garlic
1 tsp chilli powder
1 small ball tamarind
For the Preparation:
2 Tbsp coconut oil
1/4 tsp fenugreek seeds
1 sliced onion
1 tsp chopped ginger
2 sliced green chillies
5-6 curry leaves
1 cup water
6 piece drumsticks (1 drumstick cut into 2
Salt to taste
For Tempering:
1 tsp coconut oil
1/4 tsp mustard seeds
5 shallots
1 whole red chilli
1.
Marinate the sardines in salt and turmeric powder for 1/2 hour.
2.
Grind coconut, garlic, chilli powder and tamarind to a fine paste.
3.
Heat oil in pan and crackle fenugreek seeds.
4.
Add onions, chopped ginger, green chillies and curry leaves.
5.
Saute till onions turn brown. Add paste. Add water and drumsticks. Cook drumsticks till done.
6.
Add salt. Add marinated fish. Cook for 5 minutes.
7.
Temper with coconut oil, mustard seeds, shallots and an intact red chilli.