Story Progress
Back to home
Mocha Chingri Recipe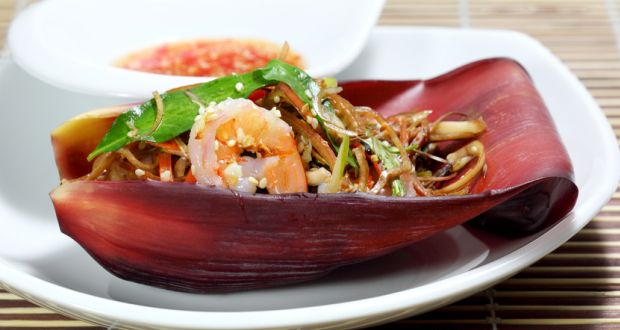 This Bengali delicacy makes use of a marvelous vegetable - the banana flower, known as 'mocha' in Bengali. Cooked with shrimps and coconut, it is best served with rice on the side.

Ingredients of Mocha Chingri
Ingredients
1 full banana flower, cleaned, steamed, and chopped
1 big potato, cubed
100 gm of shrimps
1 cup of grated coconut
3-4 cloves
½ stick of cinnamon
2 bay leaves
1 Tbsp of turmeric powder
1 tsp of cumin seeds
1-2 green chillies
Salt to taste
2.
1. Clean the shrimps and stir fry them with salt and turmeric powder till done, for 4-5 minutes. Do not Keep aside.
3.
2. Fry the cubed potatoes, till they're lightly golden, and keep aside.
4.
3. Heat mustard oil in a pan, add cumin seeds, bay leaves, cloves, cinnamon, and green chillies, and sauté for 1-2 minutes.
5.
4. Add the grated coconut and sauté for at least 5 minutes.
6.
5. Add the banana flowers, some turmeric, and cook the mixture till you can see the oil separate.
7.
6. You can also add the potatoes at this point. Add salt. Add some water, and cook for 7-8 minutes.
8.
7. Once the banana flowers and the potato are cooked through, add the shrimp. Mix well, cook for 1 minute. Serve with hot rice.
9.
(Optional: If you like ghee, you can drizzle some on top of the dish once it's ready, for added flavour).