Story Progress
Back to home
Moong Dal ke Kebab Recipe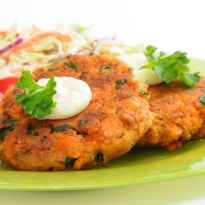 How to make Moong Dal ke Kebab
A crisp and easy to make kebab. Perfect as a party starter or an evening much.

Ingredients of Moong Dal ke Kebab
1 cup dhuli moong (husked green gram)-soaked in water for 3-4 hours
1 cup hung yogurt
2 Tbsp ghee
1 tsp cumin seeds
1 tsp salt
1 tsp chilli powder
1/2 tsp garam masala
1 tsp garlic paste
Ghee to pan fry
1.
Drain the dal and keep aside.
2.
Heat the 2 tbsp ghee in a kadahi, and add the cumin.
3.
When they splutter add the dal and the salt and saute over medium heat till tender but whole. Takes about 5 minutes.
4.
Remove from heat and let cool.
5.
Grind the lentils in a food processor or a stone to a fine consistency without adding water. This becomes like a dough.
6.
Mix the salt, chilli powder, garam masala and garlic into the ground dal.
7.
Add the yogurt and make into a soft pliable dough.
8.
Divide this into about 12 portions and shape them into round balls, and then flatten them.
9.
Heat enough ghee in a heavy based frying pan to form a thin layer.
10.
Fry over low heat, first on one side then the other, till crisp and brown.
11.
You will have to keep adding a little ghee as and when required.
12.
In case not firm enough add some roasted gram flour (besan) to it.