Story Progress
Back to home
Morels Exotique Recipe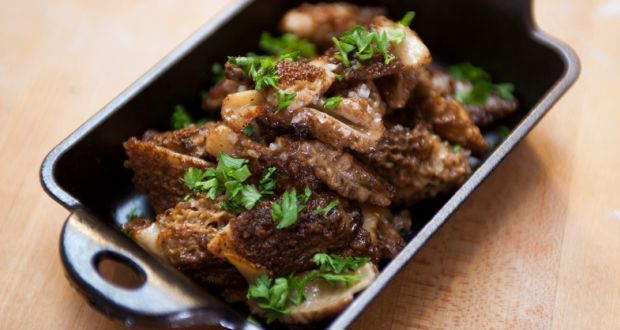 A vegetarian delicacy! Mushroom caps stuffed with paneer, black pepper, pomegranate seeds and cooked in a gravy made with poppy seed, milk and turmeric.

Ingredients of Morels Exotique
16 morels-soaked, washed and slit
16 tsp pomegranate seeds
16 tsp paneer-grated
1 tsp salt
1 tsp powdered black pepper
1 cup ghee
1 tsp cumin seeds
6 peppercorns
4 cloves
1/8 tsp cinnamon-broken
1 bay leaf
1 cup poppy seeds (khus khus)-soaked in water and ground
1 tsp turmeric
1 cup milk
1 cup almonds-ground together
Saffron-soaked in 2 Tbsp warm milk
Pomegranate seeds for garnish
1.
1. Mix the paneer, pomegranate seeds, black pepper and salt and fill into the morels.
2.
2. Heat ghee and fry the morels over high heat, till glossy. Lift with a slotted spoon, and keep aside. In the remaining ghee add cumin, peppercorns, cloves, cinnamon and bay leaf and saute till a little dark.
3.
3. Add the poppy seed paste and turmeric and saute till fat separates. Add a cup of water, and bring to a boil, add the milk mixture, lower the heat and simmer, stirring a few times.
4.
4. Add the morels and saffron mixture, simmer for a minute and serve hot garnished with the pomegranate seeds.