Story Progress
Back to home
Noodle Samosa Recipe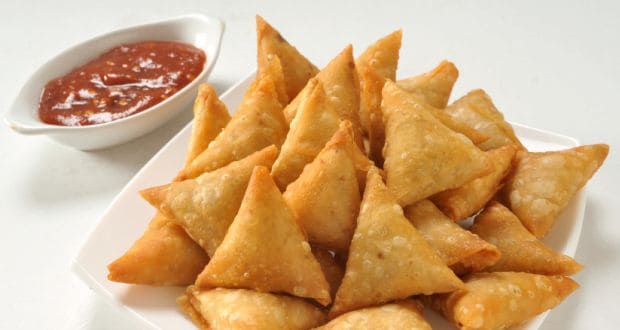 How to make Noodle Samosa
Move over, boring potatoes. It's time to fill the samosas with some chinese noodles.

Ingredients of Noodle Samosa
To deep fry oil
For the noodles:
1 bowl noodles, boiled
1 tbsp oil
2 garlic cloves (minced)
1 onion, sliced
1 capsicum, sliced
1 carrot, sliced
1 cup cabbage, shredded
to taste salt
2 tsp soya sauce
1 tbsp vinegar
1 tsp ajinomoto (optional)
For the samosa pastry:
2 cups maida
1 cup atta
1 tbsp oil
1 tsp ajwain
to taste salt
To knead dough water
Prepare the noodles:
1.
In a wok add oil, garlic, onions. Saute till pink.
2.
Add the carrots, capsicum and cabbage. Stir fry on high heat for 2-3 minutes.
3.
Add salt, soya sauce, vinegar, ajinomoto and boiled noodles. Toss and keep aside.
Prepare the samosa pastry:
2.
Add salt, ajwain and oil.
3.
Knead the dough with water.
4.
Let the dough rest for 20-30 minutes.
Prepare the samosa:
1.
Make a round shaped roti. Cut it into half.
2.
Make a cone out of that half. Fill it with noodles.
3.
Seal the edge with some water or oil.