Story Progress
Back to home
Oat Apple Crumble Recipe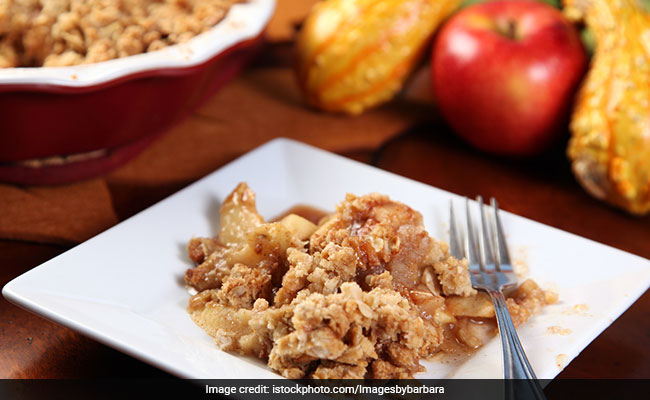 How to make Oat Apple Crumble
About Oat Apple Crumble: A delicious crumble made from oats, apples, no flour packed with flavors of cinnamon, lemon and nutmeg. Indulge yourself in this divine recipe.
Total Cook Time

1 hr 15 mins

Ingredients of Oat Apple Crumble
Apple filling:
4 large apples, thinly sliced
Juice of 2 lemons
1 tsp cinnamon powder
2 Tbsp jaggery or gur, grated
2 Tbsp light brown sugar
A pinch of nutmeg
Grated lemon zest
Oat Mix:
1 cup porridge oats
2 Tbsp light brown sugar
1/2 tsp cinnamon powder
2 Tbsp chilled white butter, diced
1.
Take a wide bowl, add lemon juice to the cut apples. Add the two sugars, cinnamon and nutmeg, lemon zest and mix well with your hands. As an option, you can add a tablespoon of marmalade. Leave this for 30 minutes.
2.
Mix the oats, sugar and cinnamon, then add the butter and crumble the mixture with your hands.
3.
Now take a baking pan. Sprinkle a bit of the oat mixture at the bottom. Then add the apples and sprinkle the rest of the oatmeal mixture on top of it.
4.
As an option, you can grate a little bit of extra butter on top. Put this in a preheated pan to bake at 190 degrees centigrade for 40 minutes or till the crumble is browned and the apples look gooey.
6.
You can add the brown sugar and cinammon to both the apples as well as the oats for extra flavour.