Story Progress
Back to home
Pasta with Roasted Mediterranean Veggies Recipe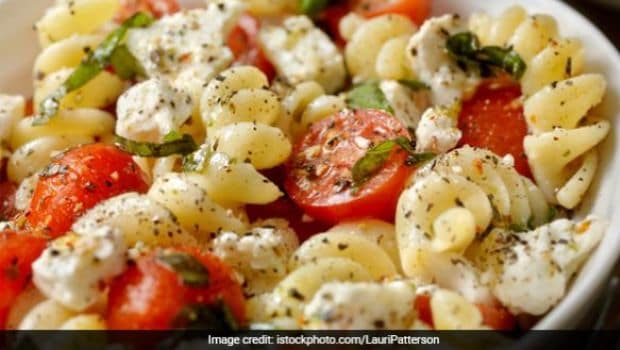 How to make Pasta with Roasted Mediterranean Veggies
About Pasta with Roasted Mediterranean Veggies Recipe: Pasta, eggplants and yellow squash tossed with a light and herby dressing.

Ingredients of Pasta with Roasted Mediterranean Veggies
120 gms pasta
1 medium eggplant, peeled
1/2 Zucchini
1/2 Yellow squash
1 bunch parsley, small
Few basil leaves
7 cherry tomatoes
1/2 Carrot
1 tbsp extra virgin olive oil
8-9 Olives
2-3 Garlic cloves
Few oregano leaves
Few rosemary leaves
Few thyme leaves
To season salt and pepper
1/2 tsp red chilly fakes
1 tbsp white wine vinegar
1.
Cook pasta in boiling salted water for about 10-12 minutes.
2.
Pour some oil over the pasta to prevent it from sticking.
3.
Drain once done. Keep aside.
4.
Slice the eggplant into chunky cubes.
6.
Sprinkle the yellow squash and eggplant with herbs, oregano, thyme, rosemary, basil, salt and pepper.
7.
Put into the oven for 10 minutes for 250 degrees until cooked yet firm.
Prepare the dressing:
1.
In a mixer add garlic, basil, parsley, white wine vinegar, pinch of salt and extra virgin oil.
2.
Blend till it turns into a nice paste.
3.
Now get the veggies out of the oven and add the pasta, cherry tomatoes and olives to it.
4.
Pour all the dressing on the pasta and give it a nice toss.
5.
Add parsley and garnish with chives.