Story Progress
Back to home
Potato Soup Recipe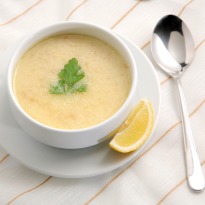 Nothing spells comfort, on a wintery evening, than a steaming bowl of potato soup.

Ingredients of Potato Soup
2 cups (200 gm) potatoes-peeled and diced
1 cup onions-chopped
2 cups water
1 cup milk
1 cup cream
2 tsp salt or to taste
1 tsp powdered black pepper
1/8 tsp nutmeg-grated
Grated cheese to garnish
Ham, optional
1.
Place potatoes, onions and water in a pan, and cook covered, till potatoes are cooked soft.
2.
Cool and blend smooth in a blender or pass through a soup strainer.
3.
Measure liquid back into the saucepan, adding 1 cup milk and water if required.
4.
Add salt, black pepper, nutmeg and bring to a boil.
5.
Lower the heat and simmer for about 5 minutes.
6.
Serve hot garnished with the cheese.