Story Progress
Back to home
Quinoa Risotto Recipe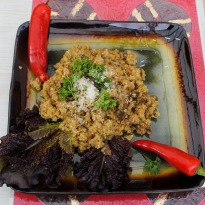 How to make Quinoa Risotto
Italian Risotto made the healthy way with quinoa. It is a grain-like crop which is gluten-free, rich in fiber and full of protein. Try it out!

Ingredients of Quinoa Risotto
1 cup quinoa
1 Tbsp olive oil
1 onion, chopped
1 Tbsp garlic, chopped
A handful of porcini mushrooms
1 cup of white wine
1.5 cup home-made chicken stock
Sea salt and freshly ground pepper
2 Tbsp parmesan cheese
1.
Rinse the quinoa in water a few times.
2.
Soak the porcini mushrooms in warm water for half and hour.
3.
Take olive oil in a pan, saute the onion and the garlic together. Do this on a low flame and don't brown the garlic.
4.
When the onions look glossy, bung in the mushrooms, and add a cup of wine.
5.
Let the quinoa soak it all up.
7.
Then take a couple of ladles of chicken stock to the quinoa. When it disappears, add some more, till you see the quinoa white and shiny, and cooked.
8.
While it's hot, lavish some freshly ground black pepper.
9.
Finally toss some grated parmesan cheese, give it a stir and serve hot.