Story Progress
Back to home
Rose Syrup Recipe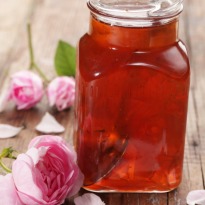 How to make Rose Syrup
Delicate and aromatic. This rose syrup recipe is perfect to add in your desserts.

Ingredients of Rose Syrup
1 cup red rose petals - tightly packed
3 cups water
4 cups sugar
1.
In a wide and deep pan, put the rose petals and cover with water. Leave this overnight.
2.
Add sugar to the rose petal and water mixture and stir over low heat, till sugar is dissolved.
3.
When dissolved, increase the heat and let it come to a boil and cook till thickened--one thread consistency. That is take a drop of the mixture and press between your thumb and forefinger, a thread should form when you separate the fingers.
4.
Strain through a muslin cloth and store in a clean, airtight bottle.