Story Progress
Back to home
Russian Buckwheat Blini Recipe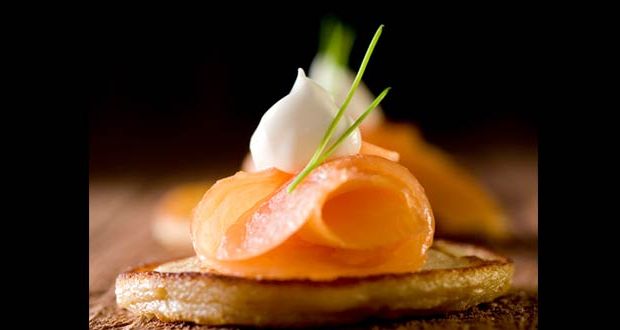 How to make Russian Buckwheat Blini
Nothing like kick starting the day with a delicious breakfast treat. This traditional Russian dish is made using buckwheat. You can top it with cream and smoked salmon and finish with dill or microgreens.
Total Cook Time

4 hrs 15 mins

Ingredients of Russian Buckwheat Blini
1/2 Cup Buckwheat flour
1/2 cup Wheat flour
1 1/2 tsp Active dry yeast
1 1/2 cups Milk
1 tsp Sugar
A pinch of Salt
2 tbsp Butter (plus extra for greasing), melted
2 Eggs (separated)
250 gram Smoked salmon
1 cup Creme fraiche or sour cream
Few sprigs Dill leaves
1.
Warm the milk and place it in a bowl. Add sugar and yeast, and let it sit for 5 minutes.
2.
In the meantime, sift together the flours and salt in a mixing bowl.
3.
Once you see the milk froth up with air bubbles, add it to the flour mixture and mix well. You will have a thick batter. Add in the melted butter, cover the bowl with a cling-film and let it rest at room temperature for 2-3 hours. You can also keep it in the refrigerator overnight and let it rest at room temperature in the morning for about 1 hour before cooking it.
4.
At this point, the batter should be double in size. Stir it a little.
5.
Separate the eggs; beat the yolks and mix it into the above batter. Beat the egg whites in a separate bowl until stiff, then gently fold into the batter.
6.
Heat a non-stick pan, and grease the surface with a little batter. Take a ladle of the batter and place it at the center of the pan, and in circular motion, spread it out to form a mini pancake of 3-4 inch diameter.
7.
Let it cook on one side for 2-3 minutes until golden brown, then flip to the other side and cook for 1 minute before sliding it onto a plate. Repeat the process with the remaining batter.
8.
Serve immediately with a dollop of creme fraiche or sour cream, smoked salmon and a dill sprig.