Story Progress
Back to home
Sauteed Bell Peppers Recipe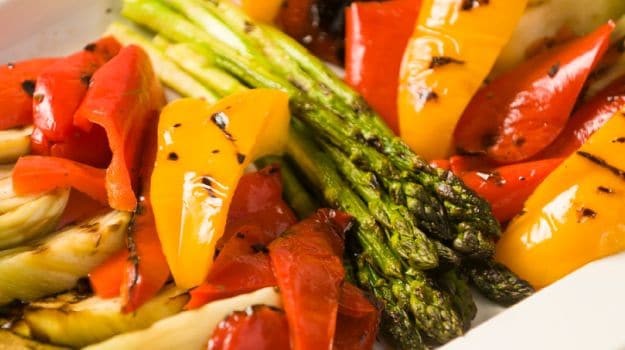 How to make Sauteed Bell Peppers
Sauteed Bell Peppers: Red and yellow bell peppers sauteed with onions and garlic, mingled in a light sauce.

Ingredients of Sauteed Bell Peppers
2 Tbsp oil
1 cup onions , sliced
1 tsp garlic paste
1 red bell pepper (laal simla mirch)
1 yellow bell pepper (peeli simla mirch)
100 gm babycorn
1 tsp salt or to taste
For Sauce 0mix together):
2 tsp cornflour/cornstarch-blended with 1 cup water
2 Tbsp vinegar
1 tsp salt
2 tsp chilli sauce or to taste
2 Tbsp celery-chopped fine
1 cup water
1.
Cut the peppers into halves, lengthwise and de-seed and cut off white veins.
3.
Slice the baby corn into two, lengthwise.
4.
Heat oil in a large pan and add the onions and garlic.
5.
Stir till onions are wet (slightly soft), and add baby corn.
6.
Add the Peppers and continue to stir over high heat till they are mixed well.
7.
Add the sauce mixture and bring to a boil.
8.
Simmer till sauce looks smooth and serve hot.