Story Progress
Back to home
Scotch Egg And Broth Recipe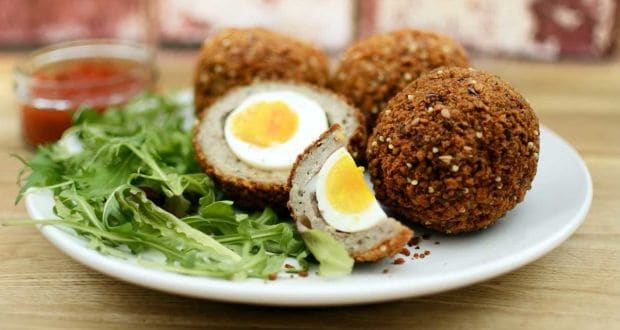 How to make Scotch Egg And Broth
Scotch Egg And Broth is a diffrent breakfast recipe which which made by boiled egg,lamb meat and bread crumbs.
Total Cook Time

1 hr 15 mins

Ingredients of Scotch Egg And Broth
4 eggs
275 gram meat
1 tsp fresh thyme leaves
1 tbsp fresh parsley, chopped
1 spring onion, chopped
to taste salt and freshly ground black pepper
125 gram plain flour, seasoned with salt and freshly ground black pepper
1 egg
125 gram breadcrumbs
for deep frying Vegetable oil
For scotch broth
1 tbsp vegetable oil
1 diced onion
1 cup diced celery
1 cup diced & peeled carrots
1 cup diced & peeled white turnips
1 clove garlic
1 bay leaf
1/2 tsp salt
1/2 tsp pepper
1/2 cup barley
1500 ml lamb stock
1 cup diced & peeled potatoes
2 sprigs fresh thyme
375 ml cooked mutton or lamb neck or stew meats
fresh parsley, chopped
1.
Preparation methodPlace the eggs, still in their shells, in a pan of cold salted water.Place over a high heat and bring to the boil, then reduce the heat to simmer for exactly nine minutes.
2.
Drain and cool the eggs under cold running water, then peel.Mix the lamb meat with the thyme, parsley and spring onion in a bowl and season well with salt and freshly ground black pepperDivide the lamb meat mixture into four and flatten each out on a clean surface into ovals about 12.5cm/long and 7.5cmPlace the seasoned flour onto a plate, and then dredge each boiled egg in the flour.
3.
Place each onto a lamb meat, and then wrap the sausage meat around each egg. Make sure the coating is smooth and completely covers each egg.Dip each lamb meat-coated egg in the beaten egg, rolling to coat completely, then dip and roll into the breadcrumbs to completely cover.
4.
Heat the oil in a deep heavy-bottomed pan, until a breadcrumb sizzles and turns brown when dropped into it.(CAUTION: hot oil can be dangerous.
5.
Do not leave unattended.)Carefully place each scotches egg into the hot oil and deep-fries for 8-10 minutes, until golden and crisp and the lamb meat is completely cooked.
6.
Carefully remove from the oil with a slotted spoon and drain on kitchen paper.And keep a sidePreparation methodIn heavy bottom pan, heat oil over medium-high heat; sauté onion, celery, carrot, turnip, garlic, bay leaf, salt and pepper for about 5 minutes or until softened.
7.
Add barley; cook, stirring, for 1 minute.Add stock water; bring to boil. Add potato and thyme; cover and simmer for about 25 minutes or until vegetables and barley are tender.
8.
Add lamb and parsley; simmer for 5 minutes. Discard bay leaf and thyme sprigs.Now scotch broth ready.Cut Scotch egg in to half and pour Scotch broth on top and serve hot