Story Progress
Back to home
Seekh Kebabs Recipe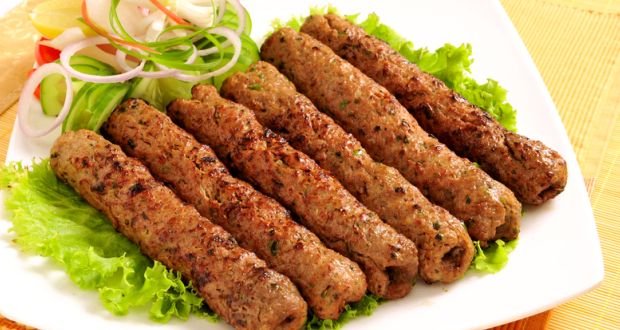 How to make Seekh Kebabs
About Seekh Kebab Recipe | Kabab Recipes: An Indian party's snack platter is incomplete without this delicious appetizer dish of seekh kabab. Succulent kebabs made with minced lamb, marinated in variety of spices, grilled on a tandoor/oven and served with green chutney. Full of juice and flavor, these kabab recipe is perfect as a starter for any dinner party. Served with mint chutney and a side of onion rings and lemon wedges, you won't need anything else to kick start the party!

Ingredients of Seekh Kebabs
Oven temp: 375 F- 205 C
2 cups keema (minced mutton/lamb/beef)
For marination:
1 tbsp vinegar
2 tbsp fenugreek leaves, chopped
1/2 tbsp garlic paste
1/2 tbsp ginger paste
1 1/2 tbsp salt
1/4 tbsp black pepper, powdered
1/4 tbsp garam masala
2 tbsp coriander leaves, chopped
1 tbsp green chillies, finely chopped
Skewers to make the kebabs
Oil for brushing
chaat masala
lemon wedges
For the marination:
1.
In a large bowl, mix lamb mince with few Tbsp of vinegar, fenugreek leaves.
2.
Then add garlic paste, ginger paste, salt and black pepper as per taste.
3.
Add chopped coriander leaves and green chillies.
4.
Refrigerate the meat mixture, covered, to marinate for at least 5 hours.
For the kebabs:
1.
About 25 minutes before serving, shape the meat mixture into long 'tubes' around the skewers (seekhs) and place on to a grill over a drip tray or into the pre-heated oven (also on a drip tray) and bake for 20-25 minutes.
2.
Brush them with oil and cook for another 2 minutes.
3.
Using oven mittens or a cloth, carefully push the kebab from one end, on to a serving dish.
4.
Garnish with the chaat masala, onions, lemons and serve along with green chutney.