Story Progress
Back to home
Sookhe Aloo Recipe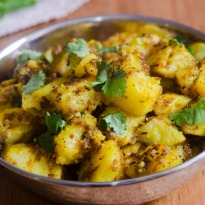 How to make Sookhe Aloo
The beauty of sookhe aloo is that it does not have a fixed recipe. So many versions to choose from. Here potatoes are lightly mashed in flavors ranging from coriander and cardamom to the tang of mango powder.

Ingredients of Sookhe Aloo
1/2 kg potatoes/ aloo, boiled and peeled
1/4 cup oil
1 Tbsp finely sliced ginger
1/8 tsp asafoetida/ heeng
2-3 whole red chilli
2 tsp cumin seeds
1 Tbsp coriander seeds, roasted and powdered
1 black cardamom, roasted and powdered
4 cloves, roasted and powdered
1 tsp fennel seeds, roasted and powdered
Salt to taste
2 tsp mango powder
1/2 tsp chilli powder
1/2 tsp turmeric powder
1/4 cup chopped coriander leaves
1.
Crush and break the potatoes between the palms of your hands and set aside.
2.
Heat oil. Add the asafoetida, ginger and whole red chillies.
3.
When the chillies begin to darken, add the roasted and powdered ingredients and the potatoes, and mix well.
4.
Add salt, mango powder, turmeric and 2 Tbsp of coriander leaves and saute over low heat for about 5 minutes.
5.
Garnish with the rest of the chopped coriander leaves and serve hot.