Story Progress
Back to home
Spinach Soup with Chickpeas Recipe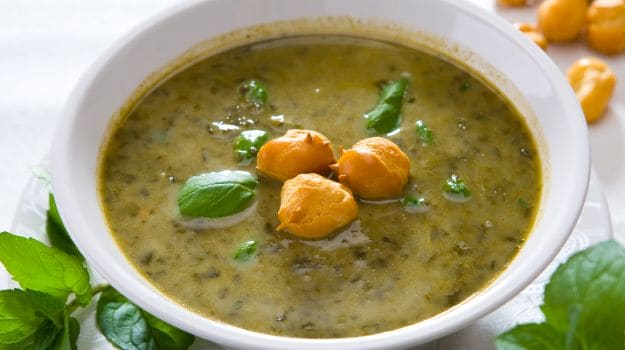 How to make Spinach Soup with Chickpeas
About Spinach Soup with Chickpeas Recipe: The good old spinach soup but with a twist, some spicy chickpeas thrown in there.

Ingredients of Spinach Soup with Chickpeas
2 Cups Spinach, chopped
1 cup Chickpeas (half cooked and soaked in water)
1/2 Onion, sliced
2 Shallots, sliced
1/2 tsp Butter
3-4 Garlic cloves, chopped
A pinch of A pinch of cumin powder
1/2 tsp Red chilly powder
A dash of turmeric
Garnish:
Cream
Black and white sesame seeds
Red chilly powder
Sesame oil
1.
In a pan, heat the butter and add the onions and shallots to it. Add the spices and mix well.
2.
Once it browns a bit add the chickpeas.
3.
Reserve the water in which the chickpeas were soaked.
4.
Saute the chickpeas for a while.
5.
When it becomes nice and moist, add the the reserved chickpea water.
6.
Then add the spinach leaves to this and let it cook for about two minutes.
7.
Spinach cooks really fast.
8.
Now put the spinach and chickpea pan into another bowl full of icy water.
9.
Let it cool down for a couple of minutes.
10.
Once it comes down to room temperature, add it to the blender and blend it well.
11.
Dabble a little cream and black sesame seeds for garnish.