Story Progress
Back to home
Stuffed Masala Mushrooms Recipe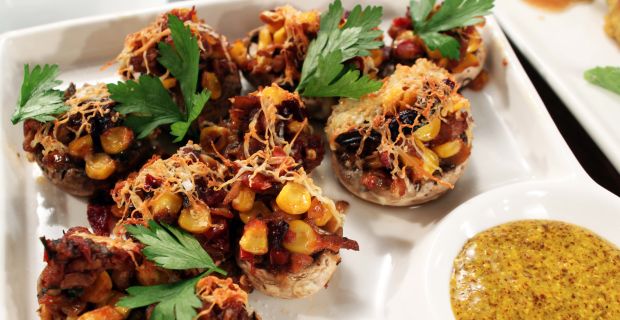 How to make Stuffed Masala Mushrooms
AboutStuffed Masala MushroomsA corn and mushroom mixture stuffed into mushroom caps, topped with cheese and baked to perfection. This recipe can be a perfect thing to pair up with your evening cuppa.

Ingredients of Stuffed Masala Mushrooms
For the stuffing:
1 tsp oil
2 tsp butter
1 tsp cumin
1 chopped Kashmiri chilli
1 large onion, chopped
1 tsp chopped garlic
1 tsp red chilli powder
1 tsp coriander seeds
Salt, to taste
Water, to deglaze
1 tomato chopped
1 cup corn kernels
Sugar, a pinch
10 mushroom stalks, chopped
Parsley, chopped
For the mushroom caps:
10 mushroom caps
1 tsp butter
Sea salt, to sprinkle
Pepper, to sprinkle
Mozzarella cheese, grated
Coriander leaves, to garnish
For the stuffing:
1.
In a pan add 1 tsp oil and 2 tsp butter.
2.
Add cumin, Kashmiri chilli. Saute.
3.
Add onions and saute till brown. Add garlic, red chilli powder, coriander, salt. Saute and add some water to de glaze.
4.
Now add the tomatoes. Saute and add a pinch of sugar to balance acidity.
5.
Add corn. Cook till the tomato and corn are cooked.
6.
Add the chopped 10 mushroom stalks. Cook till the mushrooms leave some water of their own and that water dries up.
7.
Add some chopped parsley. Mix and keep aside.
For the mushroom caps:
1.
In a baking tray arrange mushroom caps which are properly washed and the stalks are removed.
2.
In the mushroom cavity add a little butter, sprinkle some sea salt and pepper.
3.
Add the stuffing generously.
4.
Grate some cheese over them. Keep aside for 5-7 minutes.
5.
Bake at 180 degrees for 15 minutes.
6.
Garnish with coriander leaves.
7.
Serve with a dipping sauce of your choice.