Story Progress
Back to home
Stuffed Zucchini Boats Recipe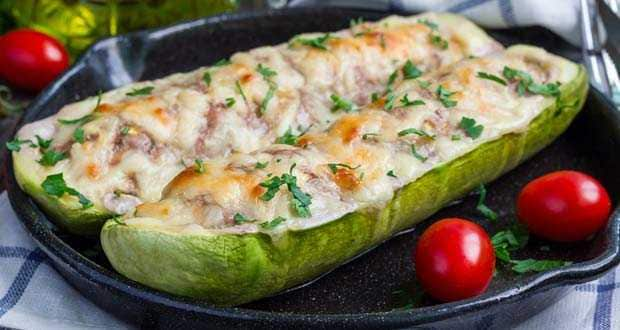 How to make Stuffed Zucchini Boats
Zucchini slit lengthwise and stuffed with lamb, paneer and cheddar cheese mixture.
Total Cook Time

1 hr 15 mins

Ingredients of Stuffed Zucchini Boats
3 Zucchinis (skins scraped and washed)
3 tbsp Olive oil
2 Onions, chopped
4 Garlic cloves, chopped
2 Green chilies, chopped
1/2 tsp Salt
1 tsp Ground cumin
1/2 tsp Ground coriander
1/2 tsp Dried mixed herbs
1 tsp Root ginger (grated), peeled
200 gram Lamb (minced)
100 gram Paneer (grated)
3 tbsp Tomato puree
50 gram Cheddar cheese
1.
Make a slit lengthwise on each zucchini and scrape out the fleshy part removing some of the large seeds.
2.
Place them in boiling water and simmer for 2-3 minutes. Drain and set aside.
3.
Heat a pan and add the onions, garlic and chilies.
4.
Fry for a minute, then add the salt, cumin, coriander, dried mixed herbs and mix.
5.
Add the lamb and fry for 5-7 minutes. Tip in the tomato puree and add 5 tablespoons of water. Allow it to cook for 5 minutes more.
6.
Preheat the oven to 180C.
For the stuffing:
1.
Chop the onion, take the hot olive oil, and fry them.
2.
Then add some chopped garlic and green chilies and give this a good stir add some salt, some mixed herbs, onions a bit of coriander and a touch of finally add the lamb minced to it.
3.
Let that fry for about 5 to 7 minutes.
4.
Then add tomato puree to it and then add some water and cook it for 3 minutes more.
5.
Place the zucchini boats on a baking tray or baking sheet.
6.
Tip the lamb mixture into the hollow shells and sprinkle over the paneer and cheddar cheese.
7.
Cook for 10-15 minutes until the cheese has melted.
8.
Serve hot with a lentil or dal dish.