Story Progress
Back to home
Spaghetti with Zucchini Recipe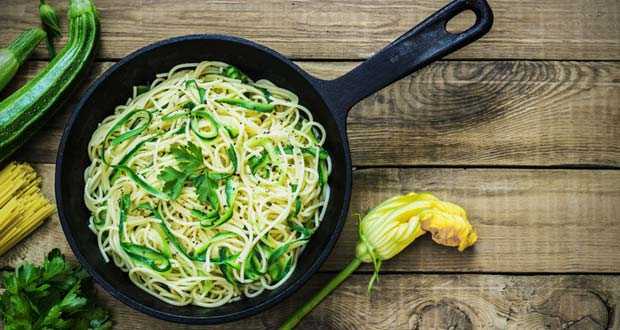 How to make Spaghetti with Zucchini
Spaghetti with the goodness of zucchini and flavors of parsley, chillies and garlic.

Ingredients of Spaghetti with Zucchini
2 Tbsp Olive oil
1/2 A yellow and green zucchini
2 Green chilies, chopped
3-4 Cloves of bashed garlic
2 stalks Spring onions
6-8 Cherry tomatoes
1 bunch Parsley, finely chopped
To season Salt and pepper
2-3 Basil leaves
100 gram Spaghetti
30 gram Parmesan (for garnish), grated
1.
In a pan heat olive oil and add the yellow and green zucchini to it.
2.
Add the green chilies and bashed garlic and fry lightly.
3.
Slice the stalks of the spring onions and add to the pasta.
4.
Roughly chop a big bunch of parsley.
5.
Season the frying zucchini with salt and pepper.
6.
Add 2-3 basil leaves, some of the chopped parsley and check seasoning.
7.
Cook the spaghetti in boiling salted water till soft and cooked.
8.
Add the cooked spaghetti to the zucchini and stir fry a little.
9.
Transfer into a bowl and garnish with grated parmesan, chopped parsley and basil leaves.