Story Progress
Back to home
Sugar Free Granola Recipe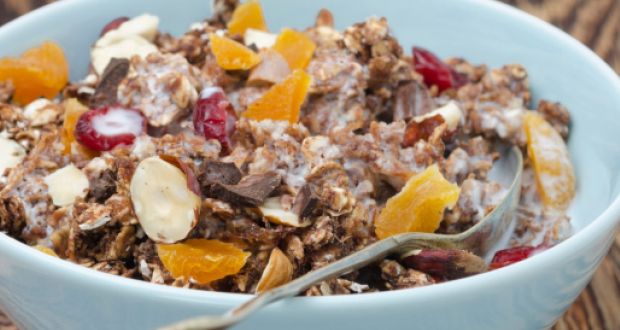 Healthy oats with a flavour kick! This one is served with the goodness of yoghurt, almonds, fresh fruits and honey.
Total Cook Time

1 hr 10 mins 20 seconds

Prep Time

10 mins 20 seconds

Ingredients of Sugar Free Granola
2 cups of rolled oats (not ready-to-eat)
1 1/2 Tbsp sunflower seeds
1 Tbsp pumpkin seeds
1 Tbsp sesame seed
One packet flax seeds (14 gms)
1/4 cup of orange juice
2 Tbsp olive oil
Half a handful of strawberries/apple
2 Tbsp of hung yoghurt
10 skinned almonds, cut into slivers.
1.
Preheat the oven to 325 degrees F.
2.
Mix the juice into the oats. Then add all other ingredients and spread them evenly onto a baking tray.
3.
Bake for 45 minutes and keep turning the mixture frequently.
4.
Remove from the oven and leave until cool.
5.
Add the hung yoghurt, almonds and fresh fruits.
6.
If you feel indulgent, you can add a teaspoon of honey.
9.
Don't mix the yoghurt and fruit way before you serve the Muesli. It will be too dry.