Story Progress
Back to home
Surprise Dumplings Recipe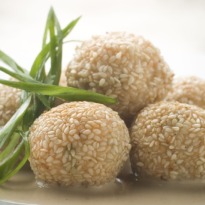 Dumplings made with cottage cheese, flour and semolina. Stuff them with delicious fillings of your choice and indulge! They are steamed and healthy too.

Ingredients of Surprise Dumplings
200 gm cottage cheese or silken tofu
1 Tbsp wheat flour
1 Tbsp semolina
1 Tbsp couscous
1 egg
1 tsp molten butter, ghee or olive oil
1 tsp lemon juice
A pinch of salt
For the Filling:
1/2 Tbsp carrot - grated and sauteed
1/2 Tbsp spinach - sauteed with garlic and cornflour
1/2 Tbsp apricots
For Garnish:
Breadcrumbs or poppy seeds or sesame seeds
1.
Take cottage cheese and mix in wheat flour, semolina, couscous, egg, butter, lemon juice and salt.
2.
Knead into a dough and refrigerate it for 1 hour.
3.
Now take small portions of the dough and flatten them a little.
4.
Fill with the desired fillings and fold in the shape of a dumpling.
5.
Boil in simmering water till the dumplings rise to the surface.
6.
Before serving roll them in breadcrumbs or poppy seeds or sesame.